Mattress Cover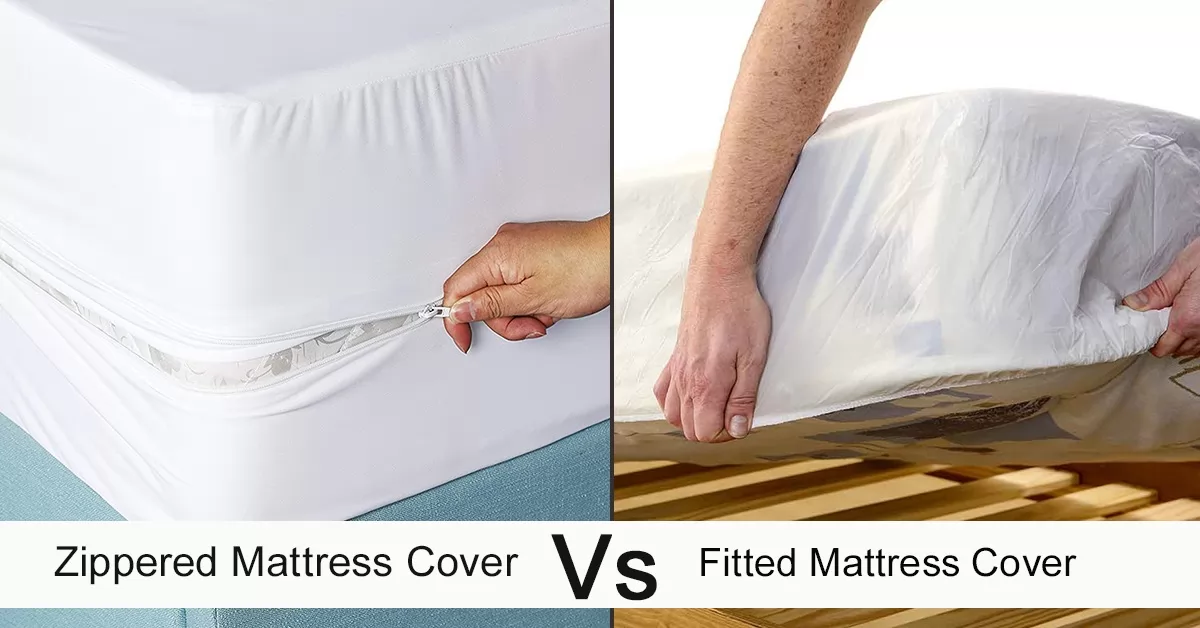 A mattress cover is an additional layer of protection to keep your mattresses safe and in good condition. It keeps the mattress clean, prevents dust mite allergies from making you fall ill, protects the warranty of the mattress and gives a new like feeling for several years. There are two types of mattress covers available in the market – zippered mattress cover and fitted mattress cover. Which one will you buy for your mattress?
Zippered Mattress Cover
A zippered mattress cover protects the entire bed. It encases the mattress, protecting it from allergens and bed bugs also. A zippered cover is ideal for indoor and outdoor use. You can take it on camping trips to protect the mattress from moisture, bed bugs and weather. Installing a zippered mattress is not difficult although you might need a helping hand to do so.
Why Buy Zippered Mattress Cover?
For additional protection bed bugs and allergens
To protect the whole mattress
Fitted Mattress Cover
A fitted mattress cover is like a fitted sheet that you use on the bed. It doesn't cover the entire bed, but only the top and the sides. The cover could be made of synthetic or natural fibers. Most of the covers are fluid proof and provide adequate protection from liquid, feces, bacteria, mold, stains, and vomit. These, however, don't protect from bed bugs, dust mites and allergens.
Why Buy Fitted Mattress Cover?
Easy to put on and take off, single-handedly
No need to lift the bed to remove or put on the cover
Easy to clean on a regular basis
Pros and Cons of  Zippered & Fitted Mattress Covers
Both fitted and zippered mattress covers have their pros and cons. If you want to wash the cover often, it makes more sense to buy a fitted cover. If bed bugs and allergens are a concern, pick the zippered cover.
Buying a cover for mattress isn't an easy task, just like purchasing the mattress itself. You need to keep various things in mind so that you can avoid any mistakes and buy only the most suitable variants. The primary confusion that you may go through while buying mattress covers is whether to choose the fitted cover or the zippered one. Here are all the advantages and disadvantages of both that will show you which one is better for you.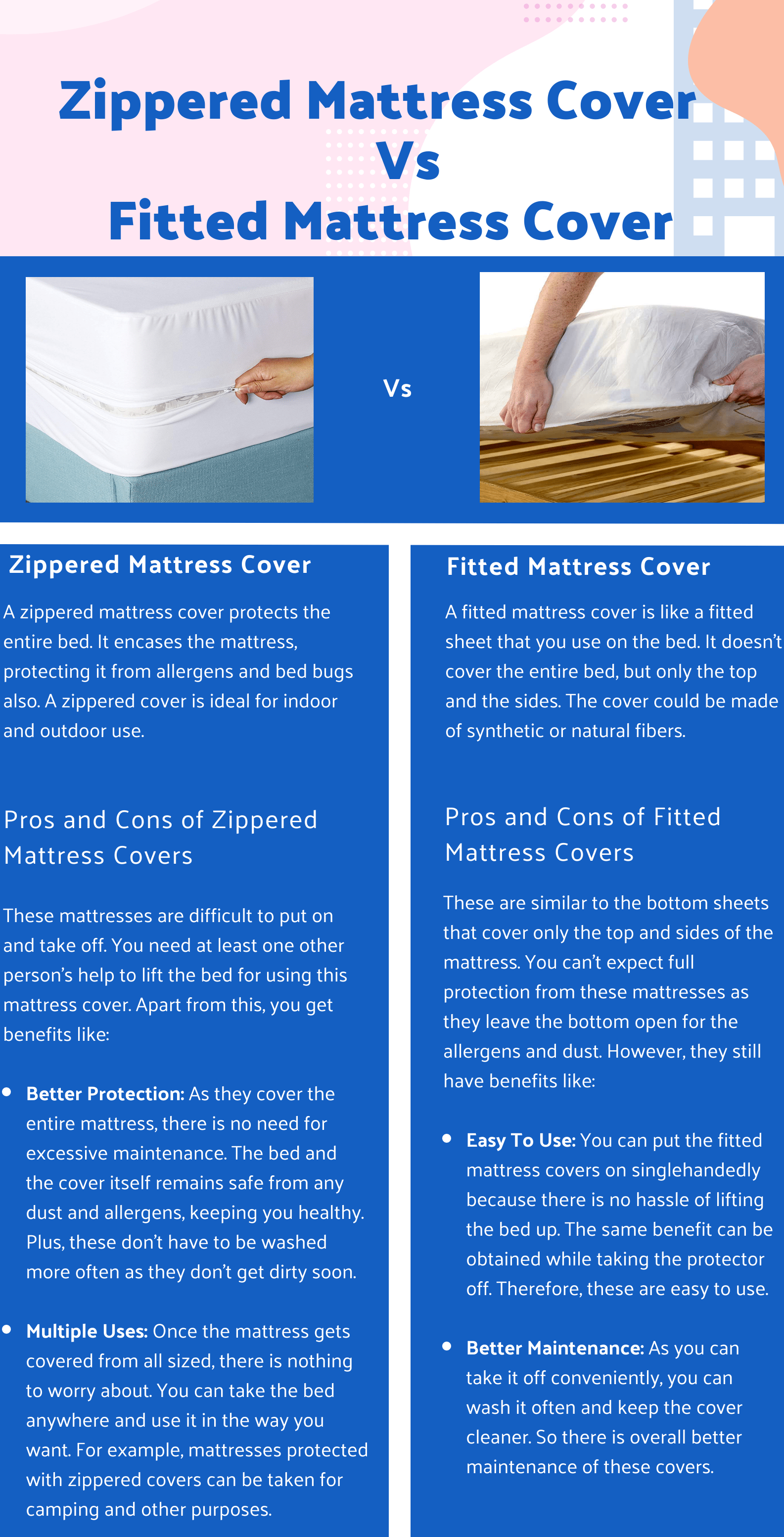 Pros and Cons of  Fitted Mattress Covers
These are similar to the bottom sheets that cover only the top and sides of the mattress. You can't expect full protection from these mattresses as they leave the bottom open for the allergens and dust. However, they still have benefits like:
Easy To Use: You can put the fitted mattress covers on singlehandedly because there is no hassle of lifting the bed up. The same benefit can be obtained while taking the protector off. Therefore, these are easy to use.
Better Maintenance: As you can take it off conveniently, you can wash it often and keep the cover cleaner. So there is overall better maintenance of these covers.
Pros and Cons of  Zippered Mattress Covers
These mattresses are difficult to put on and take off. You need at least one other person's help to lift the bed for using this mattress cover. Apart from this, you get benefits like:
Better Protection: As they cover the entire mattress, there is no need for excessive maintenance. The bed and the cover itself remains safe from any dust and allergens, keeping you healthy. Plus, these don't have to be washed more often as they don't get dirty soon.
Multiple Uses: Once the mattress gets covered from all sized, there is nothing to worry about. You can take the bed anywhere and use it in the way you want. For example, mattresses protected with zippered covers can be taken for camping and other purposes.
Factors to Keep in Mind While Buying Mattress Cover
The type of material the mattress cover is made of should be the first selection criteria. The cover could be made of organic or synthetic material.
Look for covers that can be washed in a machine or cleaned with common chemicals.
The fabric of the cover should be breathable.
As mattress covers come in different sizes, be specific about the height, length, and width.
It depends on your purpose; which mattress cover you prefer. If the protector requires more often cleaning due to some reason, you will have to go with the fitted mattress covers. Otherwise, you can opt for the zippered variant for better protection from the allergens, bedbugs, and dust.
But whichever variant you choose, you must remember to buy only high-quality mattress covers. They will stay intact for longer and provide you with all the mentioned benefits. Plus, they won't cause any troubles. You can also look for unique feature mattress covers for patients with some medical needs.
John Clark 10-Jun-2018